The future of contact center software is here!
Introducing the worlds first all-in-one interconnect & fully compliant contact center software for industry leaders. Our fully mobilized contact center management software extends our already robust PBX to deliver metrics that will help refine your contact center's agents and management. Delivering a higher standard of service to your customers and clients.
Our system utilizes the latest AI to transcribe and analyze the call stream inline. Rendering real time, alerts to management to intervene when needed. Giving your organization the piece of mind, you need to deliver the best in service to your customers.
Interested In Learning More?
Revolutionary Statistics Processing
Enjoy the most advanced softphone on the market today.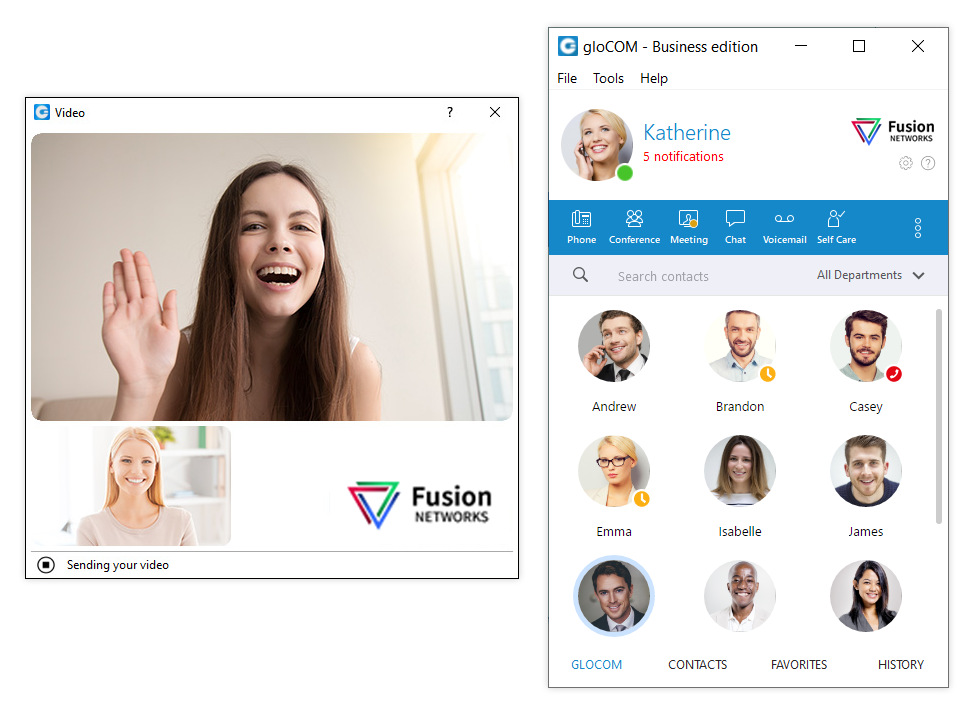 Video Calls
Conversation face to face with your co-workers provides a much closer connection, better understanding and the ability to stress the importance of a certain issue.

Our videotelephony system, with it's simple to use UI, is packed with features. Including individual rooms, with conference and break outs, allowing for a robust user experience.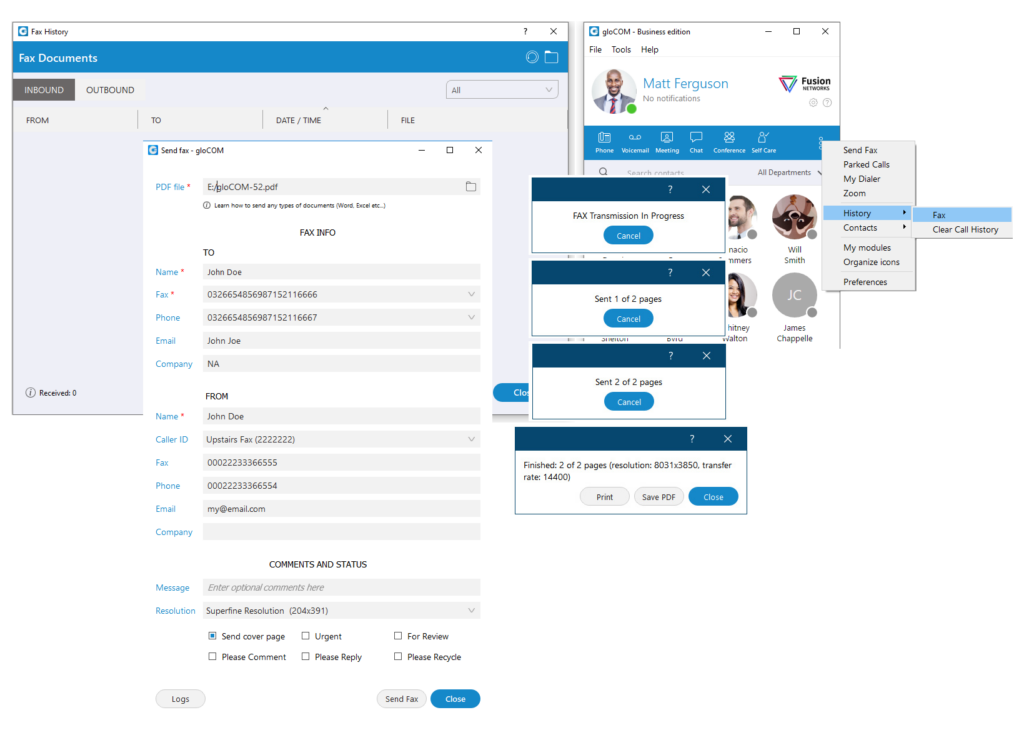 Faxing client (FoIP)
Send a document as a fax directly from its native application (using print/fax driver), or send faxes directly from gloCOM (PDF files only). Receive faxes and view them directly on your computer. Check Fax history of received files.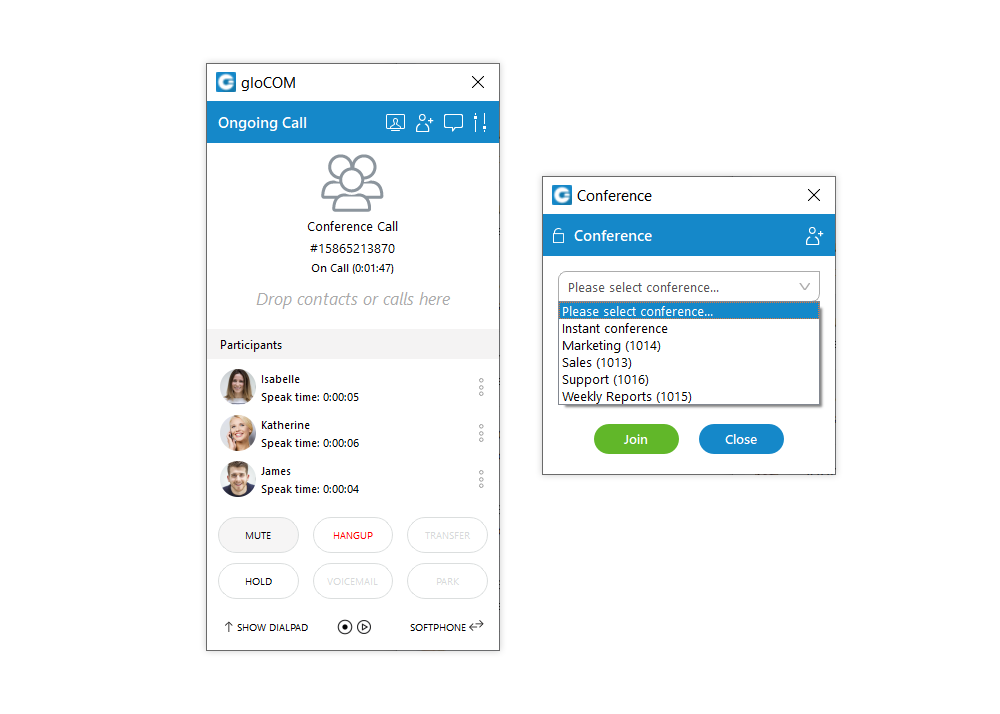 Call Switching
Fusion Networks allows a user to use all unified comms and standard comms features. Create and control dynamic conference calls on any SIP phone or SoftPhone. Convert two-way calls into a conference call, and add as many participants as you'd like (dynamic conferencing). Use drag & drop to easily add a third person to your phone call conversation. The added person receives a call and upon answering they will join the conference call. You can add as many users as needed.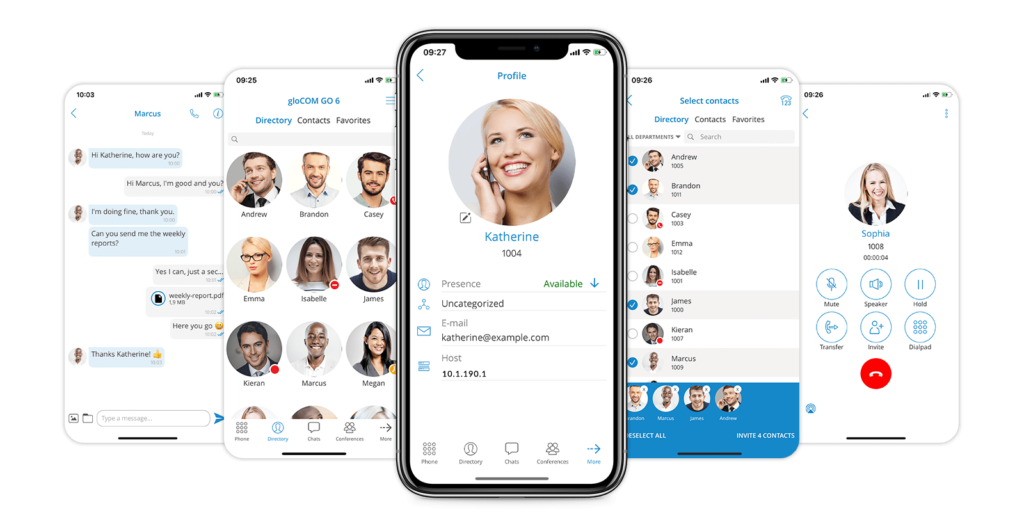 Voice Mail
Fusion Networks allows you to easily manage your voicemail messages from a mobile phone.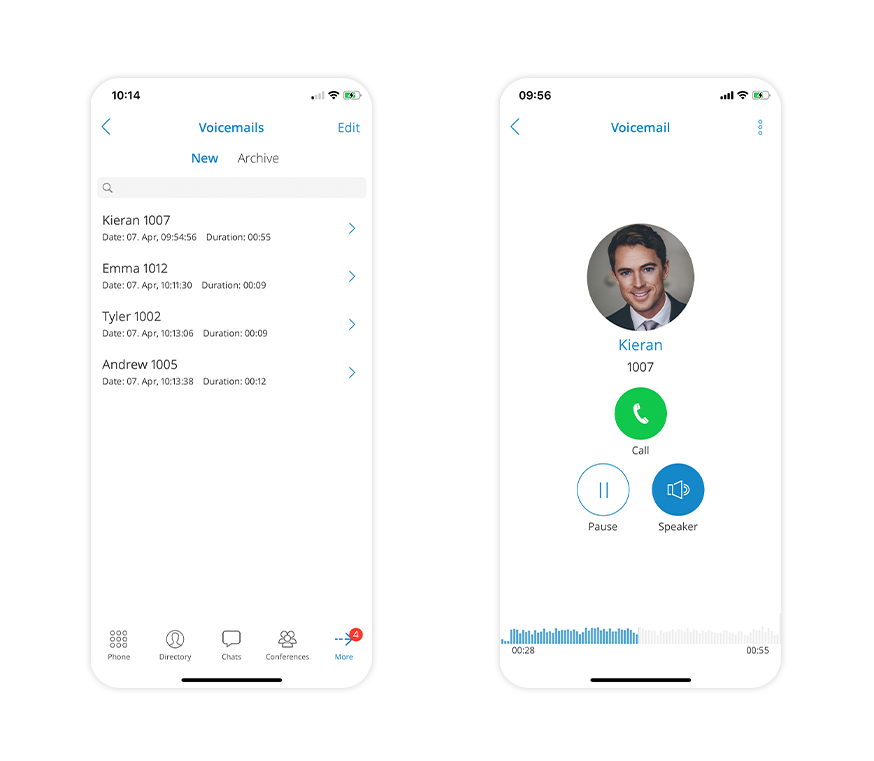 Conferencing
Fusion Networks allows you to join existing static and dynamic conferences on the system, check conference participants and invite new users to the conference. Depending on assigned conference privileges, users can also mute and kick conference members.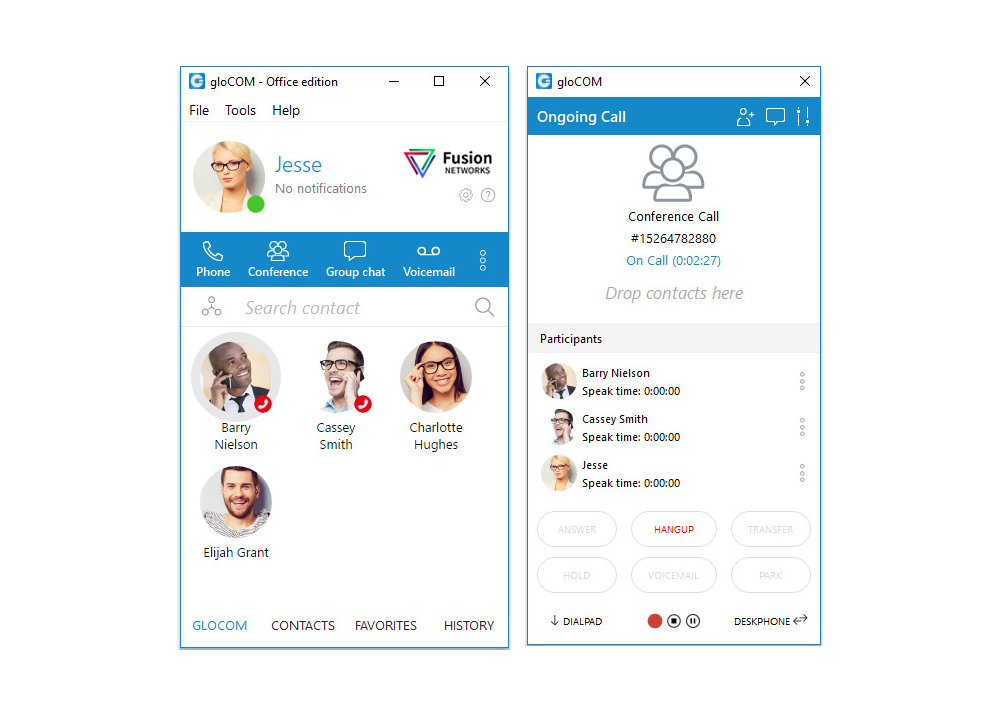 Presence and Chat
Presence is now synced between all of users' devices. Users can update their presence in the app's Profile section by selecting their current status. Users can start one-to-one or group chats. Chat is fully synced between all users' devices (Desktop & Mobile). Users can rename, add participants or start conference calls from existing group chats. Chat messages can be copied by long pressing on the message bubble.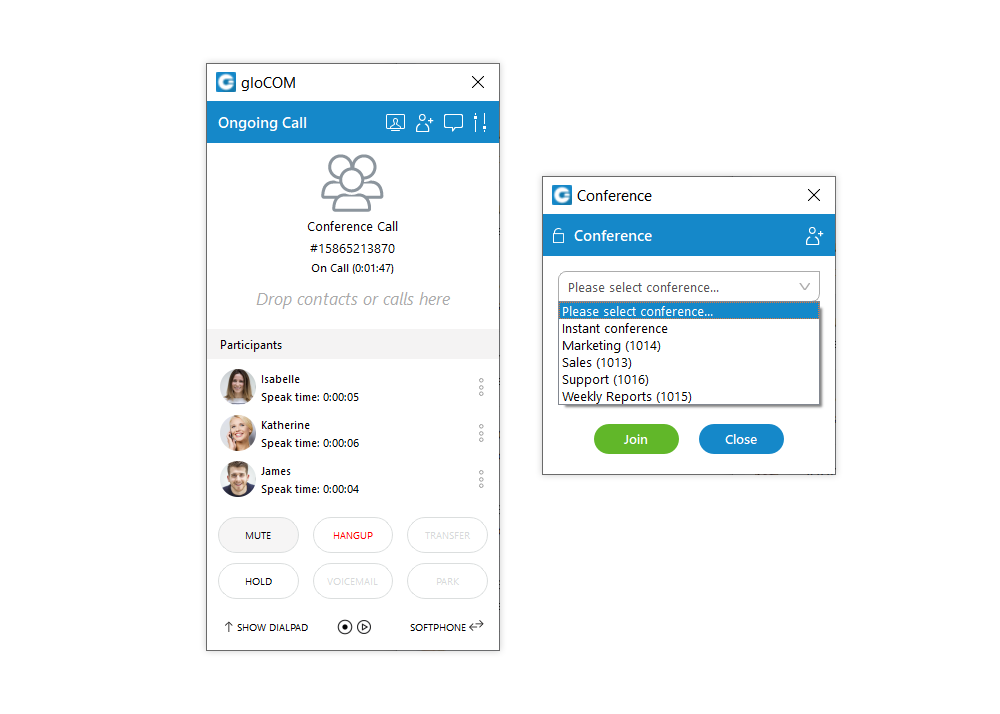 Incorporate all the features and capabilities of the Fusion Networks telephony system inside your CRM or Browser. Fusion Networks Business integrates with the most popular business apps, such as Salesforce, SugarCRM, MS Dynamics, Zoho, Zendesk, Bullhorn, Vtiger, Pipedrive, SuiteCRM, Hubspot and many more.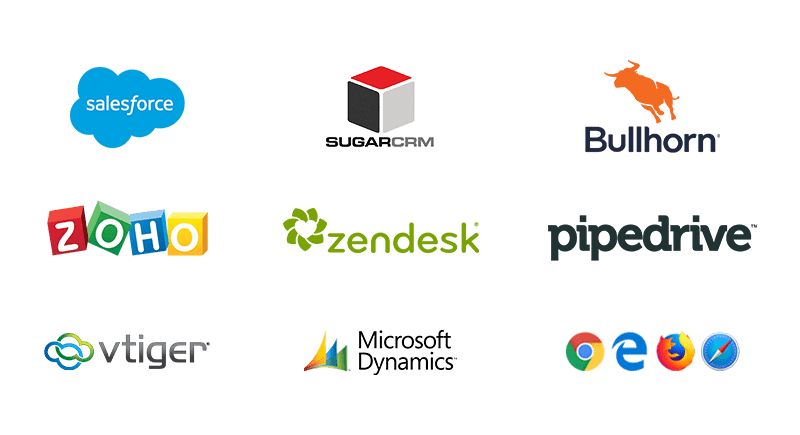 Cut down your support cost and create a better experience for your customers with Fusion Networks online self-care portal. Through the online self-care portal, users can access their personal dashboard and reports, check their voicemails, make changes to Enhanced Services such as Caller ID, Do Not Disturb, Call Forwarding, and more.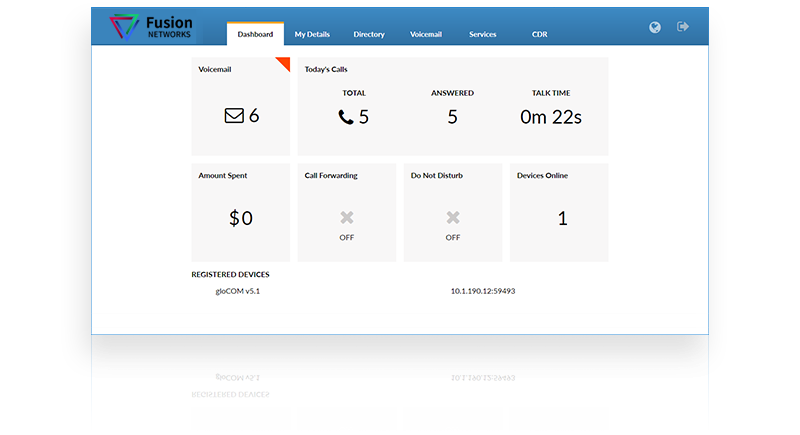 System administrators are able to create groups and users permissions in order to delegate the administration of Fusion Networks. Users are grouped by: Administrator, Site Admin, Operator, Manager, and Other Custom Groups.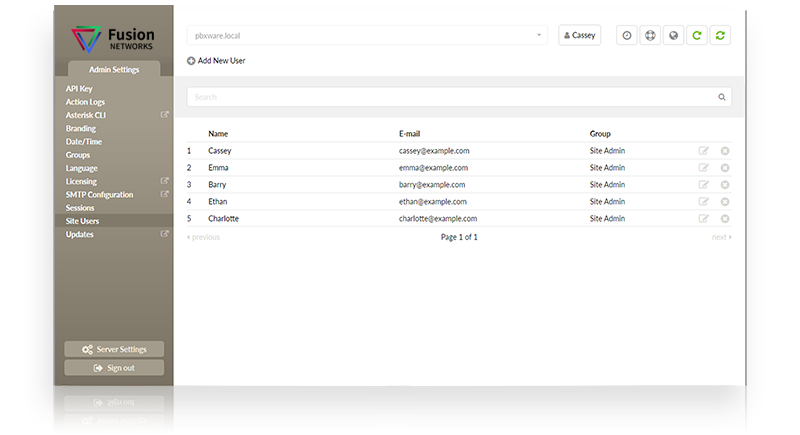 Get The Most Advanced Contact Center Software on The Market!
Introducing the worlds first all-in-one interconnect & fully compliant contact center software for industry leaders.
Our fully managed and fully customizable mobilized contact center management software extends our already robust PBX to deliver metrics that will help redefine your contact center's agents and management as well as customer handling. This enables you to deliver a higher standard of service to your customers and clients.
Secure Voice
Fusion Networks Call Center edition greatly increases security by encrypting your calls using TLS (Transport Layer Security) and SRTP (Secure Real-time Transport Protocol) protocols. And to add another layer of security, Fusion Networks now supports Let's Encrypt SSL certificates.
Fusion Networks Multi-Tenant PBX – Activity Log, track changes, boost security
API
Connect your applications to Fusion Networks with our software's simple, powerful, and secure application programming interface (API). You can access Extensions, Trunks, DIDs, Ring Groups, IVRs, and more via HTTP protocol. As well as run granular statistics and generate detailed reporting on every aspect of your contact center.


Fusion Networks FusionX API – Our easily integrated single source solution
Asterisk CLI in Browser
Conveniently and securely access the Asterisk command line interface (CLI) straight from your browser. Enabling you to quickly execute commands and have even more control over your PBX system and its core functionality.



Fusion Networks Multi-Tenant PBX – Asterisk CLI in Browser
Activity log
You can now track date, time and activity of each user to improve time management and increase productivity. Knowing who accessed various files and made changes on the server can increase security and give you a greater insight into how your business operates.
Fusion Networks Multi-Tenant PBX – HTTP API for Extensions, Trunks, DIDs, Ring Groups, IVRs
Recordings
Easily set up call recording for all extensions and access them via a web browser. Improve security, customer satisfaction and raise the quality of your service by playing back and analyzing the call records. To make certain that callers have given their consent, you can set default or custom announcements to be played before recording begins.
Statistics
Access daily or monthly call statistics with ease. Filter the statistics by the date, caller and callee number. Gain insight into the extensions statistics, such as who and when has made a call, the total and average call time, the number of answered and missed calls and more. Use the graphs to display your call statistics data in a meaningful and easy to understand manner.
Multilingual GUI
Fusion Networks Software is available in Spanish and French. Now our loyal Spanish and French-speaking users will be able to access Fusion Networks in their native language.
Custom Development
Not every business is the same, and that is why we customize our software to the specific needs of each individual client. If your business needs a certain feature that is not available in the current version of your call center, Fusion Networks team of highly skilled developers will design and develop the feature in the timeliest manner possible upon your request.
Have questions about our contact center software FusionX Collab?
Get Started Building Your Contact Center Infrastructure Today
Find out why industry leaders choose Fusion Networks over other providers
Give us a call, visit our office or shoot us an email. We're always here to discuss which services can benefit your business.
Corporate office address:
640 Belle Terre Rd
Building G
Port Jefferson, NY 11777
eMail us for information:
sales@fusionnetworks.net